Bournemouth's Winter Gardens £150m revamp plans revised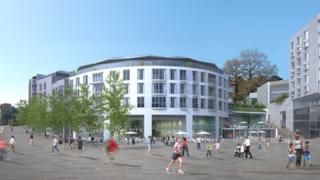 Bournemouth's former Winter Gardens site could be turned into flats, an adventure playground and restaurants.
The former concert hall site, which closed in 2002 and was demolished in 2006, is currently a temporary car park.
Revised plans for its redevelopment, which have been recommended for approval, are being put to the council by Planning Solutions Partnership.
The firm's £150m plans were turned down last year.
Tony Ramsden from the company said: "This proposal goes further as it takes in the derelict crazy golf course, Keystone House and the Klute and Funki Sushi building at 20 Exeter Road creating a circa six-acre site.
"[It] will create a £150m development which should kick start regeneration and especially family leisure in this now tired part of the town."
'Similar' concept
Mr Ramsden said the height of the residential part had been reduced in the revised plan, which has a much larger public piazza fronting Exeter Road.
He added: "The main reason for refusal last time was actually concerns on highways and traffic management and significant money has been spent on 'modelling' traffic flows around the site.
"A raised woodland walkway and outdoor children's adventure playground have been introduced on land that was previously shown as undeveloped.
"The general concept of the scheme remains very similar.
"However as time has passed much more detail has been explained to the council for potential leisure operators and how the uses interact with each other."
He said the application had been recommended for approval by council planners and had the support of English Heritage.
As a concert venue, the Winter Gardens once hosted the Beatles and the Rolling Stones.