Bournemouth's Winter Gardens revamp decision deferred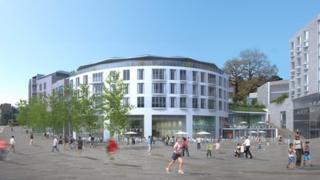 A decision on the redevelopment of Bournemouth's former Winter Gardens site has been deferred for a month.
The borough council had been asked to consider revised plans for the plot, currently a temporary car park.
The proposals included flats, restaurants, a cinema and a hotel.
Planners have asked the developer to re-examine the impact of the hotel on Cranbourne Road, deferring the decision until 17 June. The firm's original £150m plans were rejected last year.
The revised proposals, which had been recommended for approval, were submitted by Planning Solutions Partnership.
The Winter Gardens concert hall closed in 2002 and was demolished in 2006.