Weymouth Pavilion stages last show before closing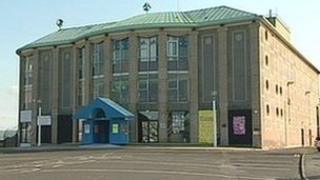 Weymouth Pavilion has staged its last show before being closed by the borough council.
Weymouth and Portland Borough Council has agreed to lease the building following a tender process, which is already under way.
It is hoped the building will be taken over and reopened as a theatre.
Cathy Page-Nash, chair of the Friends of Weymouth Pavilion, said: "We feel it must be kept - we cannot lose it, it's the only real venue in the town."
The venue had been under threat of demolition after the council said it had become too expensive to maintain.
'Wedding venue'
A report revealed the building needed more than £3m of maintenance work over the next 10 years to ensure it remained safe.
The Friends launched a fundraising campaign to help support whoever takes over the building.
The tender deadline for interested parties closes on Friday.
The final performance was of the long-running rock 'n' roll variety show That'll Be The Day.
Ms Page-Nash said: "This year it's being doing extremely well as a wedding venue, with wine fests, beer fests. With the popularity of Come Dancing, we've got a dancing group that uses the ballroom every Wednesday.
"To close it at this stage seems stupid - not looking ahead to the future."