Beaminster landslip tunnel repairs experience delays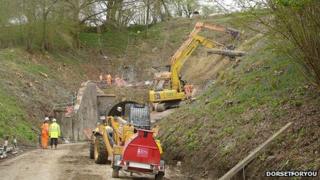 The reopening of a Dorset road tunnel where two people died in a landslip has been further delayed.
Rosemary Snell and Michael Rolfe, from Somerset, died in July 2012 when their car was buried at Beaminster Tunnel.
Specialist soil nailing, reinforcement and drainage work has been taking place since December, with the reopening date initially planned to be in May.
Dorset County Council said "despite every effort" the tunnel would open late in July.
The slopes at the side of the tunnel are being stabilised with 1,000 specialist soil nails each measuring up to 12 metres (39ft).
But the initial planned reopening date has already been shifted back by five weeks because the soil nailing has been unsuccessful in one corner.
The council's environment director Miles Butler confirmed an alternative approach was being considered for repairs to the south-west corner.
He said: "It will incur costs, but we are seeking a cost-effective design that will support and retain this entrance.
"The stabilisation work has been very complex and it has not been a straightforward project.
"The inclines, the green sand and the fact that there are four landowners to negotiate terms with have all added to the complexity."
It is likely that the tunnel will reopen under two-way traffic lights to enable work to continue on drainage of the slopes.
The authority previously blamed part of the delay on the high demand for geotechnical engineers across the country due to an increase in landslips.
It said access ramps had been put in place to increase the number of machines able to operate at one time.
'Terrible tragedy'
Beaminster ward county councillor Rebecca Knox said the latest delay was "very disappointing".
"I feel for every resident and business. It has been a huge inconvenience and terrible tragedy for us," she said.
"Let's hope this is the last problem for the tunnel and I hope to see it open by the end of July."
The council approved the works - which are expected to be effective for 120 years - in November, after an engineers' report said soil pinning would "reduce the likelihood of future slips".
Ms Snell, 67, and Mr Rolfe, 72, went missing on the day of the landslip but it was not until nine days later that Avon and Somerset Police alerted colleagues in Dorset that the couple had been traced to the Beaminster area.