Deadline for bids to run Weymouth Pavilion closes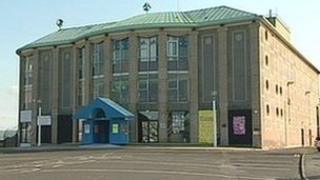 The bidding deadline has closed for community groups who want to run a Dorset seaside theatre.
Weymouth Pavilion was under threat of demolition after the council said it had become too expensive to maintain.
In April, Weymouth and Portland Borough Council voted to lease the building to a not-for-profit group - bids had to be submitted by 12:00 BST on Friday.
The council said it had received more than one bid for the lease and would reveal the successful group by 21 June.
Councillor Ian Bruce said: "I have always been confident that there would be interest expressed in leasing the Weymouth Pavilion complex.
"I am pleased that we have more than one bid to evaluate so we can determine what will be best for the community and the future of the pavilion."
The theatre and music venue faced demolition after a report by Weymouth and Portland Borough Council revealed it needed more than £3m of work over 10 years.
The venue, which closed on 31 May, is expected to reopen later this year.