Dorset councils consider future numbers in consultation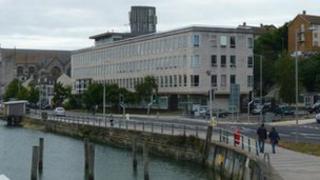 Councils across Dorset are consulting on plans to reduce the number of councillors and resize their wards.
The Local Government Boundary Commission for England (LGBCE) is taking views from residents in three districts through public consultations.
Weymouth and Portland District Council is also proposing to move to "all out" elections from May 2015.
North, East and West Dorset Councils are considering cutting 12 councillors between them.
The consultation in North Dorset closes later where the number of councillors has been recommended to remain at 33, but with their ward boundaries redrawn.
Chairman of the commission, Max Caller, said: "As we develop the recommendations for new ward boundaries, we will take into account local community identities as well as ensuring electoral equality for voters.
"We will carefully consider all evidence that is provided during this phase of the review, whoever it is from and whether it applies to the whole district or just a small part of it."
In east and west Dorset, the authorities are considering reducing their number of councillors by seven and five respectively. Their consultations run until 8 July and 16 July.
Weymouth and Portland District Council's "all out" elections consultation closed last month with 52% of those who responded in favour of a change to elections every four years.
The council claims the move could save it £90,000 over four years.