Purbeck Isle memorial bench damaged by BMX rider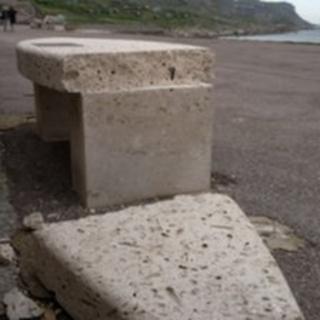 A memorial bench for a fisherman who died off the Dorset coast has been damaged by a BMX rider performing stunts, police have said.
David McFarlane, 35, Jack Craig, 21, and Robert Prowse, 20, were onboard the Purbeck Isle when it sank south of Portland Bill in May 2012.
A bench was erected in Chesil Cove in memory of skipper Mr McFarlane.
Police said a youth admitted responsibility and has expressed his remorse to Mr McFarlane's family.
PC Billy Taylor, who said the matter has been closed, added: "This was an accident not malicious damage.
Life raft
"The kid was very remorseful and has been in touch with the family."
The three fishermen had set off from Weymouth on the wooden potting vessel when it foundered.
The body of Mr McFarlane was found entangled in ropes the day after the sinking. The wreck of the vessel was found later that day.
The body of Mr Craig was recovered from the seabed but the body of Mr Prowse has never been found.
A Marine Accident Investigation Branch (MAIB) report said an incorrectly-stowed life raft failed when the vessel sank.