Dorset cat is fattest for PDSA pet charity fit club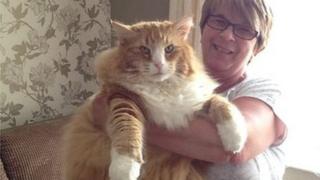 A two stone (13kg) ginger tomcat from Dorset has become the fattest feline to enter a pet charity's fit club.
Ulric, the Norwegian Forest cat from Dorchester, is twice his ideal weight according to PDSA which runs the annual Pet Fit Club.
The fluffy feline is one of 21 overweight animal finalists - including rabbits and dogs - taking part in a six-month diet and exercise programme.
Owner Jan Mitchell has described her massive moggy as "lazy".
"I've limited his food - he just has dry cat food and water," she said.
'Dragging him'
"Although he does have a tendency to eat his sister's food when she's not looking."
She added: "He's just lazy and trying to get a cat to exercise is a tall order.
"I've tried a lead but I just end up dragging him along."
Elaine Pendlebury, PDSA senior veterinary surgeon, said obesity is one of the "biggest welfare issues" affecting pets in the UK today.
Ulric and the other finalists will now compete for the title of slimmer of the year.
Last year's winner was a 45lb (20.5kg) Cavalier King Charles Spaniel called Jack - which was so fat it did not have the energy to bark.