South Dorset MP Richard Drax calls for fairer police funding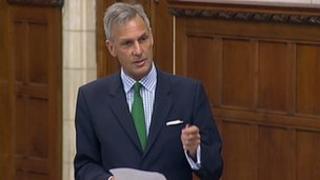 South Dorset MP Richard Drax has called for a "fairer deal" on funding for Dorset police during a debate in Westminster.
Nationally, police forces currently receive around 70% of their funding from central government and 30% from council tax.
In Dorset, the ratio is 54% from government funding and 46% from council tax.
The Home Office has said it would review the way it calculates funding.
Taxpayers' 'burden'
During the half-hour debate, Conservative Mr Drax said the force was not asking for more money, given the current economic climate.
"But what we are asking for - all the people of Dorset - is just a much fairer share of the cake," he said.
Dorset's police and crime commissioner Martyn Underhill has backed the argument.
In a statement, he said taxpayers in the county were "shouldering a disproportionately high financial burden to pay for their policing services".
"A greater slice of the funds will allow us to offer greater protection to community policing in Dorset," he added.
Policing Minister Damien Green said: "The current formula does account for the needs of those police forces who do most of their work in rural areas.
"The formulas should also ensure that where there are areas with high concentration of pubs and bars the local police force will get funding to compensate for policing required.
"But these elements of the formula - along with all the others - will be considered as part of the forthcoming review."