Dilapidated £3.5m Sandbanks house redevelopment plans refused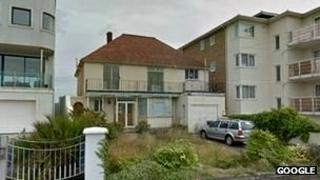 A couple who spent £3.5m on a dilapidated house on Dorset's Sandbanks peninsula have had their application to redevelop the site refused.
The property, sold in April, set a new record for the amount paid per square foot on the exclusive peninsula, according to agent Tailor Made.
Sold without planning permission, it has sea views and beach access on one side and harbour views on the other.
Plans were refused because the house would have dominated the shoreline.
The price paid for the property, which originally had a £3.75m price tag, equates to £1,725 per square foot, according to Adrian Dunford, of Tailor Made Estate Agency.
He said: "Back in 2007 there were some apartments sold at Vision, and that made £1,364 per square foot.
"We sold a penthouse for £3.8m at the beginning of this year - it was slightly bigger, but overall it was the most expensive apartment sold here.
"There are only eight houses along that whole peninsular section that will give you views on both sides.
"It is quite normal for buyers here to build a new house in the same way as you might choose a new kitchen when you buy a property."
'Exceptionally obtrusive'
The current house, in Banks Road, has four bedrooms, three reception areas and a double-length garage.
The new owners, who have lived on the peninsula for 20 years and have four children, want to clear the plot to make way for a five-bedroom house.
The application for the four-storey house with a pool was refused by planners on the grounds that the rear walls and balconies projected beyond the neighbouring buildings, making it exceptionally dominant and obtrusive on the shoreline.
David James Architects, which submitted the plans to Borough of Poole council, said it was addressing the concerns and would submit a revised application for a reduced building.
Managing director David James said the new house would be built with environmental features, including rainwater harvesting, solar panels and heating, heat recovery and air source heat pumps.
Sandbanks is one of the most expensive addresses in the UK, with flats and houses costing an average of nearly £800,000, according to property website Zoopla.
Well-known residents include football managers Harry Redknapp and Graeme Souness.