Former Bournemouth IMAX site holds first concerts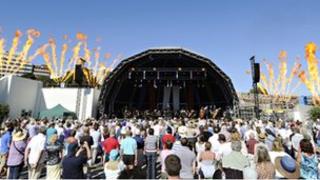 More than 1,500 people have enjoyed the first concerts on the site of a demolished seafront cinema.
The Bournemouth Symphony Orchestra performed two concerts at a new outdoor entertainment space which has replaced the town's former IMAX Cinema.
A programme of free concerts and performances is planned for the rest of the summer through to the annual Bournemouth Air Festival.
The four-storey IMAX cinema was demolished in April.