Climber rights own dislocated shoulder on Dorset cliff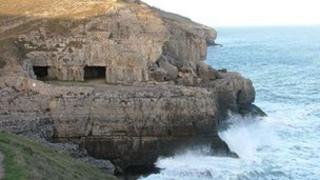 A climber has corrected his own dislocated shoulder while clinging to cliffs on the Dorset coast.
The 22-year-old man from Canvey Island, Essex, slipped on the cliffs at Tilly Whim Caves near Swanage on Wednesday.
A coastguard spokesman said he dislocated his left shoulder in the process but managed to pop it back in while hanging on to the rockface.
His companions raised the alarm and he was winched to safety. He was treated for minor cuts and bruises.