Sindy dolls and Steiff toys uncovered in Dorset past-times project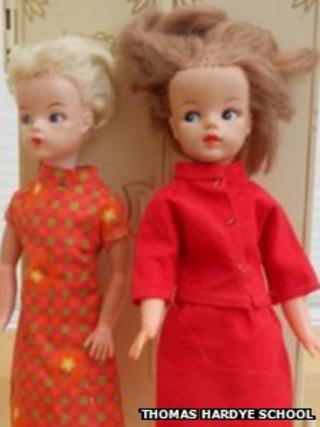 A project is under way to document the childhood times of west Dorset residents from 1945 to the present day.
The Free Time history project will include audio diaries and photographs.
Rollerskates, a collection of Sindy dolls and Steiff soft toys, all from the 1960s, have already been uncovered during the scheme.
The archive, which is being collated by pupils at Thomas Hardye School, Dorchester, will be stored at Dorset History Centre from December.
Funded by the Heritage Lottery Fund, the project aims to "preserve and capture memories and stories to ensure that an important part of our heritage will not be lost", according to digital:works which set up the scheme.
Dr Tim Ennion, assistant head at the school, said the project was "incredibly engaging".
"It also challenges preconceived perceptions of different generations - not all students today lock themselves up indoors and play on computer games, for example."
The scheme is supported by several partners including West Dorset District Council and Dorset County Museum, which will host a related exhibition towards the end of the year.