First RNLI Shannon lifeboat launched in Poole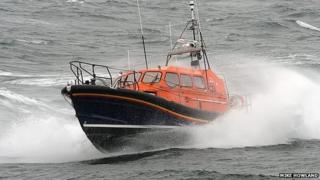 The first of the RNLI's latest class of lifeboat has been named on the Dorset coast.
Shannon craft are the smallest and lightest in the RNLI's fleet and capable of 25 knots.
The new £2m boat was named after former RNLI chairman Sir Jock Slater and his wife at a ceremony at the RNLI's Poole base.
The vessels will go into service at lifeboat stations around the British Isles.
More than 50 new Shannon class lifeboats are set to be built within the next 10 years to replace many of the Mersey and Tyne class boats.
The first craft was built in Lymington, Hampshire, with future production due to move to a new purpose-built lifeboat factory in Poole.
The Shannon class of vessels are powered by water jets rather than propellers, allowing them to operate in shallow waters and be launched and recovered from beaches.
The RNLI said the craft were "inherently self-righting in the event of capsize and will be able to cope with the roughest of conditions".