Dorset hospital trusts merger 'would cut choice'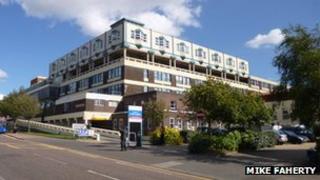 A proposed merger of two Dorset NHS hospital trusts would reduce choice for thousands of patients, the Competition Commission has said.
Bournemouth and Poole hospitals want to join forces in a move to save money.
In its provisional findings, the commission said the move would lead to overlaps in a number of inpatient, outpatient and maternity services.
The trusts said they were "bitterly disappointed" by the findings.
The merger was referred to the commission by the Office of Fair Trading, amid concerns about allowing two competing trusts to combine.
Roger Witcomb, chairman of the Competition Commission, said: "Health policy has for some time been that patient choice has an important role in incentivising hospitals to maintain and increase quality.
"Our concern is that this merger would weaken this incentive across a wide range of the hospitals' activities and remove one important driver of healthcare quality."
'Complementary services'
The commission has invited the trusts to address its concerns before it makes its final decision by 26 August.
Poole Hospital NHS Foundation Trust is already being investigated amid concerns over its finances and has warned it faces a deficit if the planned merger fails.
The commission said if the move did not go through it did not believe Poole would close.
In a joint statement, the chief executives of the trusts said: "The trusts are bitterly disappointed that the interests of competition are being put before the interests of patients, their care, welfare and safety.
"The two trusts have emphasised that they provide complementary services, work together collaboratively, do not compete and wish to come together to protect and enhance services for patients.
"The trusts consider that the process is not fit for purpose and will be raising this at the highest level."