Condor Ferries returns to Weymouth harbour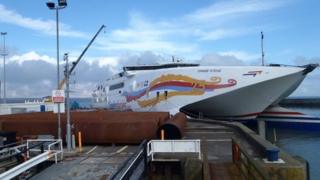 Condor Ferries has resumed sailings from Weymouth, 18 months after the harbour wall there began to collapse.
Sailings to the Channel Islands were moved from the Dorset town to Poole in February 2012 after huge cracks appeared in the 80-year-old berth.
Weymouth and Portland Borough Council has spent more than £3.4m repairing and rebuilding the quayside.
The first sailing - the 11:30 BST from Weymouth - left the town earlier.
Condor Ferries said more than 70,000 passengers have already booked travel to and from Weymouth over the summer.
More than 100 spectators cheered the ferry into the harbour when it arrived at 15:30 BST on Tuesday.
Alicia Andrews, sales and marketing director, said: "We always intended to return to Weymouth, once the ferry port was repaired.
"It's the natural gateway to the Channel Islands, and in the past year we have been active in fostering closer ties between the town and both Channel Islands.
"We are excited that we will be back as planned and know many of our guests are looking forward to being able to travel from Weymouth once more."
Ian Roebuck, brief holder for environment and sustainability at the council, said: "Our officers are in the front line and are easy targets for criticism whenever things do not go perfectly so I am delighted on this occasion to be able to give them the praise they deserve for a difficult task well managed.
"We are now looking to the future and look forward to the return of the link to the Channel Islands."