Abbotsbury Swannery biannual bird audit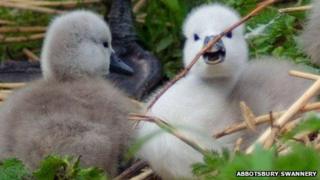 Hundreds of swans are being counted by volunteers in the biannual audit of swans at Abbotsbury Swannery in Dorset.
The birds are herded using kayaks and then weighed and measured as part of a health check.
Records of mute swans at the Chesil Beach colony have been kept since the late 14th Century.
The birds have been living there since the 11th Century, when Benedictine monks began farming the birds for their banquets.
John Houston, general manager of Abbotsbury Tourism, said: "In July the birds are moulting so they don't fly, so we use kayaks to herd them.
"People who come to visit early that morning will see the swans being herded."
It is thought that Abbotsbury Swannery is the only managed colony of nesting mute swans.