Badger cull: Council backs 'humane' approach to tackle bovine TB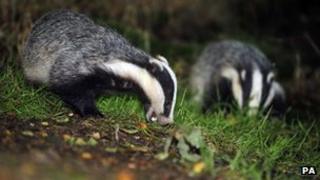 A cull of badgers in Dorset should only be done using "humane" methods, the county council has said.
The Conservative-run council had been asked to consider opposing measures put forward by the government to tackle bovine TB.
But an amendment was passed backing a humane cull of the animal in the event of an outbreak of the disease.
Dorset Wildlife Trust has said culling would not work and called for badgers to be vaccinated instead.
Former Queen guitarist and vice-president of the RSPCA Brian May spoke at a public meeting in Dorset about the badger cull in May.
The controlled shooting of 5,000 badgers is taking place in parts of Gloucestershire and Somerset in an attempt to control TB in cattle.
Dorset is a reserve pilot area, meaning a cull could take place, but only in the event of problems arising in the other areas.
'Emotional damage'
Hilary Cox, deputy leader of Dorset County Council, said: "The council recognises the seriousness and impact of bovine TB on animal welfare and economics of farming.
"But it's a matter for government and parliament nationally, and local tenant farmers to decide.
"The cost of doing nothing is impossibly high and I urge the government to urgently investigate badger vaccines further, but you're never going to catch all of them and the costs are prohibitive.
"You cannot put a price on the emotional damage TB does to a farm's business."
Swanage Conservative councillor Bill Trite raised a laugh in the chamber when he said the issue was not "black and white".
The Liberal Democrat and Labour groups argued that the amendment was "toothless".
'Bad evidence'
Campaigners against a badger cull say it will have no impact on bovine TB, and could lead to local populations of badgers being wiped out.
Dr Simon Cripps, from the Dorset Wildlife Trust, said: "This is an awful thing that needs to be sorted out... the way to do that [is] through short term badger vaccination."
James Cossins, a dairy farmer near Blandford, said a viable vaccination was 10 years away.
"Where there's really bad evidence of TB in cattle and in the wildlife a cull is the only answer, along with movement controls of cattle," he added.
A petition launched by Brian May urging Defra to halt the cull has attracted more than 260,000 signatures.
Charlotte Townshend, patron of Dorset Wildlife Trust, quit her post in May after the charity was targeted by animal rights activists.