Marsh harriers breed at Poole Harbour after long absence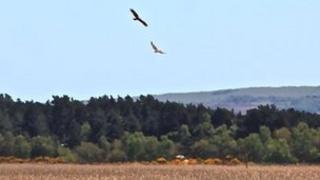 A rare species of bird of prey has bred in Poole Harbour for the first time in 50 years.
The pair of marsh harriers have nested in reed beds around the Wareham Channel, the Birds of Poole Harbour charity said.
It is not yet known how many chicks have hatched as they are deep in the reed bed but they are expected to fledge in the next week.
It has doubled Dorset's breeding marsh harrier population to two pairs.
The other pair are at Lodmoor RSPB reserve in Weymouth.
'Wealth of wildlife'
Paul Morton from the Birds of Poole Harbour charity said: "This is spectacular news.
"We can have anything up to six marsh harrier pairs in Poole Harbour during the winter, but these birds all head back to mainland Europe or further east in the spring to breed.
"The fact a pair has finally decided to take the plunge and stay hopefully means others will follow suit in the coming years."
Dante Munns, RSPB Reserves manager for Dorset said: "The fact that the harbour is still able to provide a home for an amazing wealth of wildlife, once again including marsh harrier, demonstrates the importance of protecting these special places."
Poole Harbour hosted 60% of the UK population of breeding marsh harriers in the 1950s but by 1963 there was none.
It was thought that human intrusion, egg collecting, shooting and flooding were the main causes for their demise 50 years ago.
There are an estimated 360 breeding pairs of marsh harrier in the UK.