Poole tennis courts out of action due to heat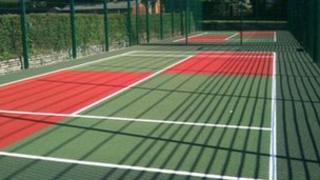 Tennis players have received an apology from Poole Borough Council after the authority's six new tennis courts were shut for nearly three weeks.
The closure on 3 July was due to the specialist surface of the courts in Poole Park still "settling in".
Councillor Judy Butt said: "We need to temporarily suspend play on the courts when the temperature rises above 22C to protect them from damage."
Members have been offered a full refund or a two-month membership extension.
The courts, which opened on 20 June, were closed following advice from the Lawn Tennis Association.
The council said it had been able to reopen the tennis courts on Wednesday but bookings would be suspended again in temperatures of 22C and above.