Lepe Beach sea rescue girl recovering in hospital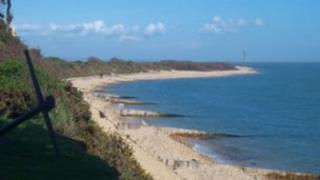 A girl who was pulled unconscious from the sea off the Hampshire coast on Friday is in a "comfortable" condition, Southampton General Hospital has said.
The 13-year-old was flown to hospital after she and another girl were rescued from the sea off Lepe Beach on Friday afternoon.
The second girl was treated in hospital and four people who had gone into the sea to help were treated at the scene.
Members of the public had raised the alarm after spotting the two girls.
RNLI and Coastguard teams brought the pair back two shore.
Solent Coastguard watch officer Garry Hall said: "We want people to have fun and enjoy our coast but to do this we all need to respect the power of the sea and recognise that it's not like swimming in a pool.
"Powerful tides can pull you away from shore and mean that you are quickly out of your depth."