Beaminster landslip tunnel reopens after £2.1m repairs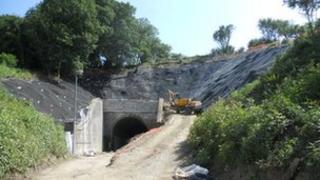 A road tunnel which was closed when two people died in a landslip there has reopened following extensive repair works.
Rosemary Snell, 67, and Michael Rolfe, 72, both from Somerset, died on 7 July 2012 when their car was buried at Beaminster Tunnel in Dorset.
The tunnel was due to reopen in May but repairs were delayed due to bad weather and land ownership issues.
The council said it wanted to make sure the land was stabilised and safe.
It reopened to traffic earlier following the completion of £2.1m of repairs.
However temporary traffic lights could be used at off-peak times while contractors finish off any remaining work.
Complex project
Repairs have included rebuilding the head wall destroyed in the landslip and protecting walls at both ends of the tunnel by building extra concrete walls behind them.
Walls on approaches to the A3066 tunnel have been stabilised and the road has been resurfaced.
Drainage and specialist soil nailing have taken place and new lighting has been installed on the approaches to and inside the tunnel.
Dorset county councillor Hilary Cox said: "It has been a very complex project and we have had to overcome a number of difficulties.
"It has been a test of our engineering skills to find long-term solutions to make sure the land around the tunnel is stabilised for the safety of road users.
"The slopes will look strange initially, but we will sow wild flowers and then let nature do the rest."
The council said the repairs, which started in December, should last for 120 years.
Ms Snell, 67, and Mr Rolfe, 72, were reported missing on the day of the landslip and their bodies were not found until nine days later.