Sheep-shearing men with beards sought for Dorset film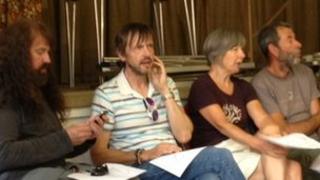 Casting directors are searching Dorset for bearded men to appear as extras in a BBC adaptation of a Thomas Hardy novel.
Men who can shear sheep and women with long natural hair are also in demand for the production.
On Sunday, hundreds queued for the open casting of Far from the Madding Crowd at Bridport Women's Institute (WI).
Hardy was born in Dorset and lived most of his life in the county, writing novels and poems.
He set up a theatre group called the Hardy Players and encouraged local people to perform plays based on his novels at his home at Max Gate, Dorchester.
Livestock experience
Lynn Fancy from Bere Regis said Sunday's casting was "great fun", despite waiting for an hour to be seen.
"Anyone not knowing what was going on would have thought the WI cakes were popular," she said.
"There were lots of bearded long-haired men."
Assistant director Guy Campbell said his production team were searching for 500 to 600 extras, who will play men and women farmers from the 1840s.
Men with "good-length" beards and moustaches are particularly sought after, as are people with experience of handling livestock.
Filming will start in September