Call for Dorset conurbation council merger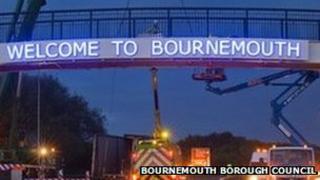 A campaign group is renewing its calls for three Dorset councils to be merged.
The Uniting the Conurbation group wants Bournemouth, Poole and Christchurch to become a single unitary authority.
The idea was also raised in the 1990s but councillors opposed it, saying the authorities should keep control of their own finances and identities.
The latest campaign was launched at the end of 2012 but council leaders remain against the idea, saying they already collaborate in a number of areas.
The renewed calls follow the erection of an illuminated sign welcoming people to Bournemouth.
Campaigner David Trenchard, who was Bournemouth council leader in the 1980s, said the sign, over the A338, should welcome visitors to all areas of east Dorset, not just "the bit in the middle".
He said: "What we are concerned about is that these little working partnerships that are being developed are an excuse not to go forward for the whole hog.
"Lets look at the conurbation geographically - it is one place. All the businesses that work here and the people that live here - they live in one community."
'Lot of duplication'
John Beesley, leader of Bournemouth Borough Council, said: "For local council tax payers, I would suggest [it was] a very bad idea, and one that will cost a great deal of money without actually delivering better services."
Borough of Poole council leader Elaine Atkinson said: "Beyond my lifetime, I'm sure it will happen, but I can't see it on the table at the moment."
Christchurch and East Dorset Partnership chief executive David McIntosh said: "Whilst the principle is sensible, the practicalities of going from where we are to a unitary in the south east Dorset conurbation is quite a big task and not one that I believe would be worthwhile."
Mr Trenchard said: "There are such a lot of activities and duplication going on in the area, it will save a considerable amount of money."
"The government has asked the local councils to come up with a plan to reduce the number of councils. They are not exactly responding very positively to that suggestion but at a stroke you could reduce the number of councillors for every ward to one and you'd immediately have an overall council at a third of the present size."
About 380,000 people live in Bournemouth, Poole and Christchurch. The councils have 120 councillors between them.