Silverlake quarry holiday resort plan submitted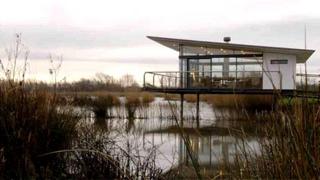 A plan to transform a Dorset quarry into a holiday resort and nature reserve has been submitted.
Up to 750 jobs could be created if proposals for Silverlake at Warmwell Quarry near Crossways go ahead.
Plans sent to West Dorset District Council include building up to 1,000 holiday homes over a 30-year-period and protecting the area's natural habitat.
Developers Habitat First Group, said Silverlake would provide "a sustainable solution to the future of the quarry".
The 564-acre (228-hectare) site is currently used for large-scale sand and gravel extraction, but quarrying is due to end by 2017.
Outline plans include the building of 30 holiday chalets and lodges a year as well as a country club and spa.
Species surveys have been carried out to identify the key areas of ecological importance for breeding birds, reptiles, dormice, otters, water voles, invertebrates and bats.
A Dorset Wildlife Trust spokeswoman said: "In principal, this project will create a lot of habitats, which is fantastic.
"We are being consulted to ensure that these new habitats do not impact on existing habitats in surrounding areas."
Warmwell Quarry used to include a former World War Two airfield, RAF Warmwell, which dates back to 1937.