Victoria Syme caravan fire death blamed on halogen heater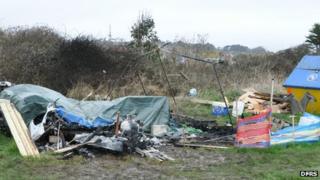 A 26-year-old woman died when some clothes were set alight by a halogen heater, engulfing a caravan in flames, an investigation has found.
Victoria Syme's body was discovered by firefighters called to the burning caravan at Wyke Regis, Weymouth in Dorset, on 7 January.
Fire investigation officer Steve Underhill described it as a "really tragic incident".
An inquest in Dorchester recorded a verdict of accidental death.
Dorset Fire and Rescue Service issued a warning about the dangers of halogen heaters following the verdict.
Mr Underhill said: "We believe the fire started after a halogen heater was left near flammable materials, in this case clothes.
"These clothes ignited and quickly caused the entire caravan to be involved in fire.
"I strongly urge anyone using a halogen heater to think about what is around the heater and make sure any clothes or other flammable materials are at least one metre away."