Dorset Badger cull imminent, Dorset Wildlife Trust chief executive says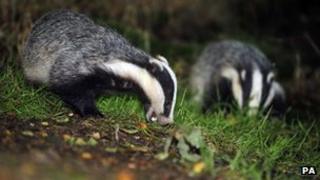 A wildlife official in Dorset has said there is a "great likelihood" of an imminent badger cull in the county.
The controlled shooting of 5,000 badgers is due to take place in parts of Gloucestershire and Somerset in an attempt to control Bovine TB in cattle.
But Dorset Wildlife Trust chief executive Simon Cripps said there may be a shortage of participants, meaning a cull in Dorset, a reserve pilot area.
Defra said it expected a cull to go ahead in Gloucestershire and Somerset.
A petition launched by Brian May urging Defra to halt the cull has attracted more than 260,000 signatures.
'Not the way'
Mr Cripps said: "The Gloucestershire cull may not go ahead because they don't have enough farmers, if that is the case there is a great likelihood that if the cull goes ahead it will go ahead in Dorset.
"It could start any day [in Gloucestershire and Somerset] so we need quick action.
"We already have overwhelming scientific evidence that badger culling won't work as a control for Bovine TB, and on top of that comes overwhelming public opinion that this isn't the way to go."
The trust is calling for badgers to be vaccinated instead.
Charlotte Townshend, who was the charity's patron, quit her post in May after it was targeted by animal rights activists.
Dorset County Council has backed a "humane" cull of badgers in the event of an outbreak of the disease.
Ian Johnson, spokesman for the National Farmers Union in Gloucestershire, said its cull would go ahead, with more than 70% of farmers taking part.
In a statement, Defra said: "Natural England issued West Somerset and Gloucestershire with licences for the two badger cull pilots and these licences remain in place."