Dorset couple jailed for stealing from woman's family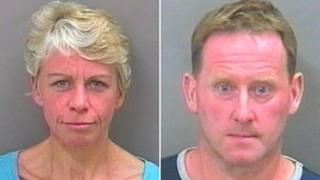 A couple from Dorset have been jailed for stealing £76,000 from two of the woman's family members, one of whom is mentally ill.
Jane Martin, 51, and Steven Collins, 53, of Red Barn Farm, Blandford Forum, stole the money from Martin's mother and mentally disabled brother, Vaughan.
Martin was sentenced to three years in jail while Collins received a four-year sentence, at Bournemouth Crown Court.
Collins faced an extra charge of mistreating a vulnerable adult.
The judge described the actions of the couple as "a despicable course of conduct".
He said they had seized the opportunity of Martin's mother going into hospital to steal £14,000 from her bank account and disguise it as a loan.
'Vulnerable adult'
After Martin's mother died and Vaughan had received his inheritance, Martin and Collins removed him from a care home to live in their house, the court was told.
During a 15-month period they then stole £62,000 from his bank account - some of which was spent on motorbikes and cars.
Speaking outside court, Det Sgt Paul Smith, of Dorset Police, said: "Vaughan was a vulnerable adult, he couldn't fend for himself."
The defence said the pair had stolen money from family members out of "financial desperation".
It is hoped Martin's brother will receive compensation after a proceeds of crime case which is due to take place early next year.