Dorset PCC Martyn Underhill to recruit sex trade outreach worker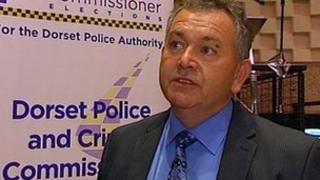 Dorset's police and crime commissioner (PCC) is to recruit an outreach worker to tackle the illegal sex trade.
Martyn Underhill said the role would focus on the Bournemouth suburb of Boscombe, which has "multiple issues".
He says there are about 35 women involved in the street sex trade and wants the new worker to help bring that number down.
Mr Underhill, who had his car broken into while at a meeting in Boscombe in April, said the area was a key focus.
Earlier this year he also appointed a voluntary advocate for the suburb who has been acting as his "eyes and ears".
Mr Underhill said the issue of sex workers dominated a recent meeting.
He added: "On-street sex workers aren't offenders, they are victims, casualties of either awful life experiences, addictions or both.
"I hope that the new outreach worker role will be able to link agencies together, and work with the women to offer the help, advice, support and guidance that they need."
Details on how the new outreach worker will be funded are yet to be announced.