Ash dieback disease confirmed in Dorset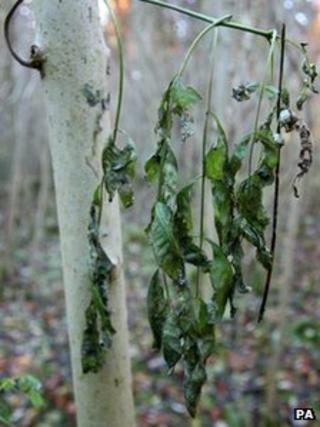 The first case of the tree disease ash dieback in Dorset has been confirmed.
The disease, which was first found in the UK last year, has affected a proportion of the woodland area near Winterbourne Abbas village.
It came after trees were sourced from a nursery in Europe.
Bruce Rothnie, Forestry Commission area director, said: "The initial infection has spread to other trees that were already planted on that site so it is moving around."
The affected trees lie within an area of one kilometre (1,093 yards).
The Forestry Commission has undertaken an intensive survey of the area.
'Clearly concerned'
Mr Rothnie added: "A number have been confirmed as positive samples.
"We then undertook a wider survey of hedgerows and other woodlands in the area and we haven't yet found any further infection on a broader front.
"We're clearly concerned that it might spread further from that site but at the moment we're relatively confident that we can hold it in that area until we do a further analysis.
"The main thing now is to establish how far the disease has got and whether we can do something to at least slow it down to allow us time to identify trees that may be resistant to the disease."
Ash dieback has caused widespread damage across northern Europe.
Dorset is the 13th county in England where its presence has been found.
Britain has about 80 million ash trees, which cover about 5% of all woodland and provide food and shelter for birds and more than 100 types of insect.
About 100,000 of them had to be destroyed in 2012.