Council's child officer indecent image sentence cannot be changed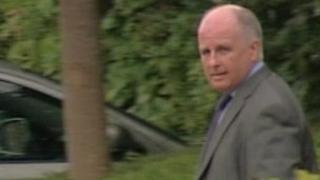 A council children's services officer who was spared jail after admitting making indecent images of children will not have his sentence increased.
Robert Finlay, 53, of Bournemouth, received a suspended prison term on Friday for making more than 600 images.
The Attorney General's Office received 15 complaints but said as the charge does not fall under its unduly lenient sentencing (ULS) scheme it cannot act.
Bournemouth East MP Tobias Ellwood said he was "disgusted" nothing can be done.
The Conservative member, who was one of those who complained, added: "I am seeking a meeting with the Attorney General (Dominic Grieve MP) to talk to him... there should be a way to review it.
Dismissed from post
"There is absolute revulsion from people in my constituency, it's disgusting that he got a suspended sentence."
A spokesman for the Attorney General's Office said: "The ULS scheme only applies to a limited number of offences and making indecent photographs of a child is not one of those offences.
"Therefore it is not possible for the law officers to refer this sentence to the Court of Appeal for review."
Appearing at Bournemouth Crown Court in July, Finlay, of Barnes Crescent, admitted 17 counts of making the images between January 2009 and April.
The court heard 94 of the 601 images were rated at level four and five - the most serious.
He was sentenced to eight months in prison, suspended for two years.
Finlay was dismissed from his post as children's services programme leader at Bournemouth Borough Council.