Trust bid to save Studland seabed habitats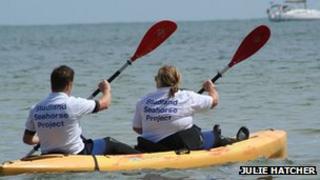 Wardens tasked with protecting precious underwater habitats off the Dorset coast are to patrol the area in kayaks in a bid to prevent damage by boats.
Seagrass meadows on the seabed in Studland Bay support rare species including the endangered undulate ray.
The grass, which has an extensive root system, is in decline worldwide.
Dorset Wildlife Trust (DWT) has started a six-week project to raise awareness and urge boat users to anchor carefully or use moorings.
Seagrass roots create a stable environment for all kinds of species, including juvenile bass, bream, flatfish and both British seahorse species, which have been found to breed in Studland Bay.
'Absorbs CO2'
Other creatures that thrive in the habitat include all six species of British pipefish, including the rare Nilsson's pipefish.
DWT marine awareness officer Julie Hatcher said: "It is imperative that marine species which depend on seagrass to survive are given the best chance possible.
"Seagrass is also important to us - it forms a natural coastal defence protecting the beach and cliffs from erosion and absorbs CO2, helping in our fight against climate change."
Seagrass warden Darren Lloyd said: "Often, if we can't see something, we don't think about it.
"It's not about lecturing people - it's about making them aware of the issues, and working together to protect habitats for marine life at Studland Bay."
The kayaking wardens will hand out leaflets from the Royal Yachting Association offering advice on anchoring in areas rich with seagrass.