Dorset Wildlife Trust counts increase in butterfly numbers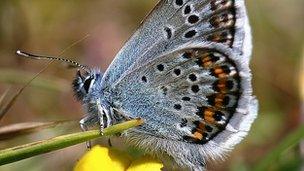 Numbers of butterflies at sites across Dorset have seen a "significant increase" this summer, a nature census has found.
A Butterfly Conservation survey recorded more than 440 dark green fritillaries at Fontmell Down.
Since 1980, an average of about 20 of the declining species have been counted each year.
Dorset Wildlife Trust said the warm start to the summer had provided a much needed boost to butterfly populations.
A survey on Upton Heath nature reserve near Poole counted a "record number" of 101 silver studded blue butterflies.
The rare butterfly is only found on heath land, limestone grassland and sand dunes.
Sam Hamer, Dorset Wildlife Trust conservation officer, said: "The butterflies have definitely appreciated the warmer start to the summer this year, and we have already seen a significant increase in the numbers of many different species."
Related Internet Links
The BBC is not responsible for the content of external sites.