Man stuck in brambles rescued from cliff near Swanage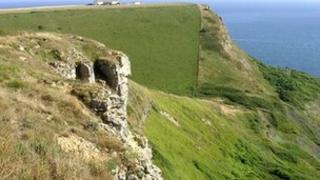 A walker who became stuck in brambles on a cliff on the Jurassic Coast in Dorset has been hauled to safety.
Coastguard rescue teams found the man entangled on the sloping cliff at Emmett's Hill, near Swanage, on Wednesday evening.
Cliff rescue teams used ropes to rescue the man, who had strayed from the coast path near St Aldhem's Head.
The 32-year-old, believed to be on holiday in the area, is not thought to have suffered any serious injuries.