Royal Bournemouth Hospital reveals birthing unit plans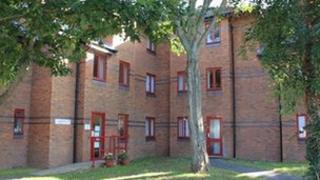 The Royal Bournemouth Hospital has revealed plans a new birthing unit for mothers expecting uncomplicated births.
The new unit would replace the existing one staff say is "located deep within" the hospital building and about "300 steps" away from the nearest car park.
Initial plans feature two suites in an existing building be converted, with dedicated parking bays outside.
The unit, for women who are expected to have a straightforward birth, helps to deliver about 450 babies a year.
The new midwife-led unit would replace offices in a residential building for staff which can be "easily relocated", according to a hospital spokeswoman.
Pregnant women needing more specialist medical intervention would be transferred as usual to Poole Hospital.
Acting Head of Midwifery, Pauline Hawkes, said she was "excited" about "a purpose-built unit" only 10 steps from parking bays to the entrance and which would be closer to the main road for arriving mothers-to-be.
She added that "being located deep within a hospital building is not ideal" and that the new units would "provide a more homely, rather than a clinical, environment".
A budget for the extension and renovation work has not been confirmed.
It is estimated the application will be considered by Bournemouth Borough Council at about the end of October.