Shaftesbury Abbey's war memorial likely to be removed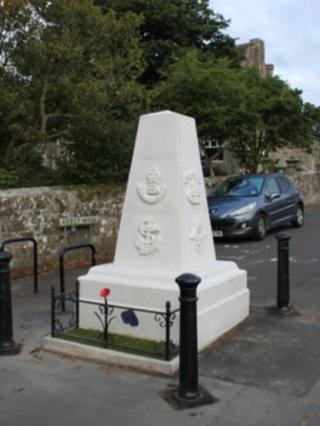 A war memorial that was erected unlawfully is likely to be removed and put into storage while a new site is chosen, a council has said.
The 6ft (1.8m) Portland stone monument was put up in June in Park Walk near Shaftesbury Abbey - which is designated as an ancient scheduled monument.
English Heritage has asked for the "unauthorised work" to be removed as it was carried out without consent.
The town council said ideas for a new site could go to public consultation.
A Working Group, consisting of representatives from Shaftesbury Town Council, English Heritage, North Dorset District Council, the Royal British Legion and Shaftesbury Civic Society, was set up on 3 September.
It has now advised the council to remove the monument, which is dedicated to local servicemen and women who have died since the beginning of World War II, and store it until a new site is chosen.
'Considerable complexities'
The memorial features the cap badges of regiments, including the Devonshire and Dorset, which later merged into The Rifles.
The town council said there were "considerable complexities" involved in identifying a new location and all options would be explored.
The site of the scheduled monument extends around the visible ruins of the old abbey, which means the memorial has been erected on protected land.
Under the Ancient Monuments and Archaeological Areas Act 1979, it is a criminal offence to carry out works to a scheduled monument without consent from the secretary of state, according to English Heritage.
Shaftesbury Abbey was founded by Alfred the Great in AD888 and his daughter Aethelgiva was the first abbess there.
Only the excavated ruins of the abbey church remain today within a walled garden, now home to the Shaftesbury Abbey Museum.