Dorset Tory MP Richard Drax attacks coastguard cuts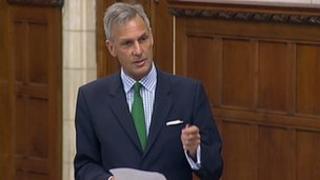 A Tory MP has accused the government of putting "cost-cutting ahead of life-saving" over the confirmed closure of three regional coastguard stations.
The Solent, Portland and Brixham stations will close towards the end of 2014 and be replaced with a single operations centre in Hampshire.
South Dorset MP Richard Drax said this would leave casualties "at the mercy of distant computer operators".
The Maritime & Coastguard Agency (MCA) said it would "improve the service".
'People not politics'
Mr Drax warned there would be "serious consequences" if the centralised operations centre goes ahead, combined with the closure of Dorset's coastguard helicopter in 2017.
He cited the vital "local knowledge" of regional coastguards which could never be replaced "by a centralised, computer-based system".
The MP, a former BBC journalist, said he was continuing to fight the regional closures and had now written to Public Accounts Committee chair Margaret Hodge and the parliamentary ombudsman.
The MCA said there would be no reduction in rescue resources and that the majority of staff from the south coast stations were expected to relocate to the new centre, which is due to open in September.
Mr Drax's comments come at a time when the Conservatives are holding their annual party conference.
But he said his criticisms of the government cuts were long-standing and "had nothing to do with politics".
"I am not in this business to score points against anyone," he said, "all I am doing is speaking up for my constituents."