Winfrith nuclear site: companies wanted for restoration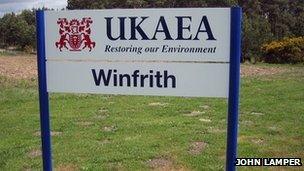 Millions of pounds of work is required to decommission a former nuclear test plant in Dorset.
Research Sites Restoration Ltd is looking for local companies to join the contractors who are demolishing the Winfrith site and returning the land to its natural state.
Elaine Atkinson, leader of Borough of Poole, called the project "exciting".
The site began operating in 1957, and shut down in the 1990s. Decommissioning should be complete by 2021.
The restoration company, which is a subsidiary of the UK Atomic Energy Authority, said civil work, skilled labour, plant hire and equipment were needed for its "multi-million" pound decommissioning programme.
Ms Atkinson said it offered opportunities for local businesses.
She added: "It is important we maximise investment in Poole. We are keen to make local companies aware of the type of work that will be available and to encourage them to get involved."
According to the Nuclear Decommissioning Authority Winfrith was an experimental reactor research and development site.
For more than four decades it operated eight different reactors.
It also consisted of plutonium and radioactive laboratories, and dealt with nuclear waste treatment. The nuclear fuel has since been removed.
A 2006/07 consultation agreed the land, which is situated near the village of Winfrith Newburgh, would be defined as "heathland landscape" with public access upon completion.
Related Internet Links
The BBC is not responsible for the content of external sites.