Boscombe surf reef owner 'not traced' a year after liquidation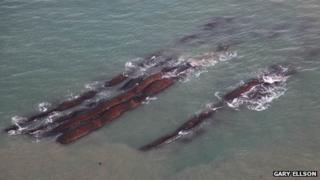 Liquidators for an artificial surf reef company still cannot trace its owner, a year after it collapsed.
New Zealand-based ASR Limited built the £3.2m Boscombe reef in Dorset in 2009 but was liquidated in September 2012.
Pricewaterhouse Coopers has been repeatedly unable to contact owner Nick Behunin or any major shareholders.
Bournemouth Borough Council, an unsecured creditor for £14,800, has finally settled an insurance claim for damage to two of the reef's sand bags.
The reef was created to enhance waves for surfers but has been criticised for not working properly.
Pricewaterhouse Coopers' latest report, released through Companies House New Zealand last month, revealed it continues to be unsuccessful in contacting Mr Behunin, the firm's former director.
The BBC has also been unsuccessful in its attempts to contact Mr Behunin or anyone connected to ASR.
Bournemouth Borough Council registered to be an unsecured creditor in May for money it spent to remove a container left by ASR.
It has finally reached a settlement on an insurance claim for damage sustained to two artificial sand bags by a boat propeller in May 2011.
The council would not reveal the amount, but previously said it expected it to be more than the liquidators' claim of £14,000.
Director of tourism Mark Smith said work had begun to make the reef safe for use.
He said: "This is progressing well and the reef will form an integral part of the coastal activity park, scheduled to open in spring 2014."
The coastal activity park is part of a wider scheme of projects for Bournemouth's seafront which were approved by councillors last week.
Local contractors involved in the reef's construction in 2009 have also registered creditors' claims, some for as much as £34,000. They have yet to hear if their claims will be successful.