Boscombe surf reef 'set for April reopening'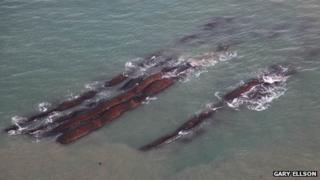 Europe's first artificial surf reef is set to be reopened in April after a council received two insurance payouts to fund repairs.
The £3.2m structure in Boscombe, Dorset, had to be closed in 2011 after sandbags were damaged by an unidentified boat's propeller.
The BBC can reveal Bournemouth council has now received £306,531 from its insurers after a two-year wait.
The authority is set to commission a firm to carry out the repairs.
Made of 55 giant sand-filled bags 740ft (225m) out at sea, the reef opened in November 2009 after lengthy delays and running over budget.
The firm that built the structure, New Zealand-based ASR Ltd, has since gone into liquidation.
The reef has been criticised in the past for its performance, with some calling for it to be demolished.
Bournemouth council first lodged claims with its insurers Zurich Municipal in April 2011.
'Shifted unexpectedly'
Following a Freedom of Information request by the BBC, the authority revealed it had received two settlements for the damaged bags of £171,531 and £135,000, some of which will help directly fund repairs.
Tourism director Mark Smith said it was planned the reef would reopen in April and help enhance a planned coastal activity park for the town's seafront between Alum Chine and Southbourne, approved in October.
He added: "It will help make the attraction stronger as a package.
"Unlike a natural reef where surfers take their chances, when you place an artificial structure underwater, you need to ensure the currents do not create any dangers.
"The sand bags shifted unexpectedly in the accident, so some technical work will ensure it returns to the state it originally opened in."
Opposition Labour councillor Ben Grower, a long-time critic, repeated calls for it to demolished.
"It's good news the payouts have come through, but it's less than 10% spent on the project by this council overall.
"To put the money back underwater is a complete waste and shows this council can't learn from its mistakes."
The council is also registered as an unsecured creditor in connection with the liquidation of ASR for £14,800.