Duke of Wellington's Kingston Lacy tree felling under way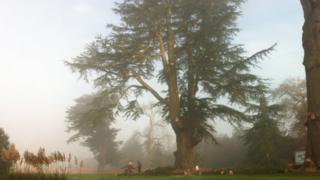 Work to fell a tree which was planted by the Duke of Wellington in the 19th Century is under way.
The cedar, planted in the garden of Kingston Lacey House in Dorset by Arthur Wellesley in 1827, was condemned after it was diagnosed with severe rot.
The National Trust said the "landmark" tree had to be felled immediately after experts found there was only 5% live wood left in the trunk.
Head gardener Andrew Hunt said he would "cry to see it coming down".
"It's sad and it's going to be horrible," he added.
Mr Hunt said cedars were "not native to this country and they don't respond very well to our winters, with the high winds and the snow that we have".
Battle of Waterloo
A National Trust spokesman said specialist tree surgeons had already begun lopping off branches and bringing the tree down piece by piece, with work on the main trunk due to begin on Thursday.
Visitor services manager Martin Granados said the "final piece of the Wellington" should come down on Friday, though the entire project could take a week to complete.
After the felling of the tree and two others, the ground will be cleared and replacements propagated from the seeds of the cedar will be planted.
Mr Hunt said the cedar wood would be used in a number of ways, including being turned into a sculpture and benches for the main gardens.
Arthur Wellesley, who was the first Duke of Wellington, planted the tree at the estate then owned by William John Bankes.
They became friends during the campaigns of the Peninsular War.
The duke, with the help of Prussian forces under the command of Gebhard von Blucher, defeated the French emperor Napoleon Bonaparte at the Battle of Waterloo in June 1815.