RSPCA defends Dorset flood horses action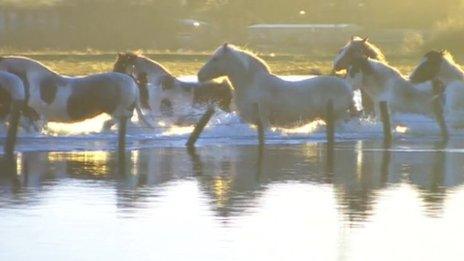 The RSPCA has defended itself against criticism over actions taken at the weekend to rescue horses stranded by flood waters in Dorset.
People living near Christchurch said the animal charity was too slow to respond to protect the horses and its officers mismanaged the rescue.
They said a man was trampled and a second group of 19 ponies is still in danger from flood waters.
The charity said the water rescue team did a "fantastic job".
Photographer Chris Skone-Roberts set up a Facebook page highlighting concerns about the horses on Friday.
He said: "The behaviour of the RSPCA has been horrific. They didn't rescue them until Saturday which was too late.
"They were swimming up to their chests in water."
The RSPCA said it had been visiting the first group of wild horses in Christchurch daily since Christmas Eve and had advised the owner to move the animals, but legally were unable to act as they were being cared for and had access to dry land
It dispatched a 12-strong team of trained water rescue inspectors to the scene on Saturday and used a boat to rescue the cob ponies from deep water.
The spokeswoman said a member of the public offered to help load four horses into a trailer, at which point three horses broke free causing a gate to fall onto another man who was helping to load them.
He suffered a cut to the head and was checked over by an off-duty paramedic at the scene.
A female RSPCA inspector was also forced to dive to the floor to avoid being trampled by the horse but was not injured.
The RSPCA also said it is monitoring the 19 wild ponies stranded further along Stoney Lane in Christchurch on an island in the middle of the River Avon.
The charity said so far the ponies are not in need of rescue as they have "adequate grazing" and attempting a rescue would be "dangerous".
Related Internet Links
The BBC is not responsible for the content of external sites.