Dorset fossil hunters warned of rockfall and mudslide dangers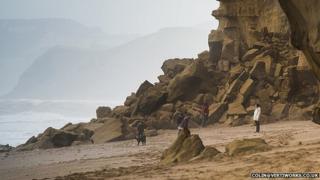 Fossil hunters congregating on Dorset beaches have been warned of risks from rockfall and mudslides.
The county's coastline is unstable following storms, particularly around Burton Bradstock, where a large rockfall took place on 16 January.
The National Trust said large numbers of people drawn to the beaches because of the chance of new finds uncovered by the storms had been taking risks.
The trust's Allan King said people should not to ignore warning signs.
It is thought the number of fossil hunters may have increased because of a recent ichthyosaur find.
The "fish lizard" fossil, uncovered by amateur fossil hunter Alan Saxon on Boxing Day, is thought to be one of only a few ichthyosaur fossils found in such a complete condition on the Jurassic Coast in the past decade.
Tony Gill, owner of the Charmouth Fossil Shop, said the village's beach was the busiest he had seen for "20 odd years".
'Mobile coastline'
Mr King said there had been a number of landslips as well as the major cliff fall in Burton Bradstock.
"The storms over the winter may have changed some of the coastline," he said.
"It's a changing, mobile coastline and we will always get landslides and rockfall, but in the last couple of years, the coastlines been particularly active.
"It brings fossil hunters down to the beach, it is exciting to go and look for these new discoveries, but it carries a risk."
He added that it was up to people to decide if they wanted "to take that risk".
Richard Edmonds, earth science manager of the Jurassic Coast Team, said searching near danger spots was unnecessary.
"The best place to find fossils is on the beach at low tide, not on the cliffs, where there is an increased risk of rock fall."
He added that, despite reports that fossils such as a ichthyosaur could be worth thousands of pounds, the hundreds of hours of painstaking work needed to clean and restore fossils before they could be sold meant there was little chance of easy profit in fossil hunting.