'Super huts' planned for Bournemouth's Alum Chine beach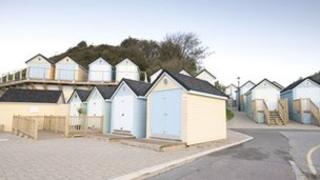 A number of beach 'super huts' will be built on part of Bournemouth's seafront where there is a 10-year waiting list for would-be tenants.
Bournemouth Borough Council has promised to upgrade its older huts, as well as build 18 new super ones.
The 'super huts' will be larger than standard structures and will be painted in a graded colour palette intended to make them more "visually appealing".
Similar council 'super huts' in Alum Chine have recently sold for £40,000.
They were built further up from the chine, opposite Vesuvio restaurant, while the new ones will be along the promenade to the west of Alum Chine.
Alternative location
Some council tenants, who lease their huts on an annual basis, will be asked to leave them so they can be replaced with newer models as part of the upgrade.
The council said the lifespan of the buildings was approximately 20 years, but some of those being replaced had been built 40 years ago.
A number of private tenants who lease adjoining land from the council will also have to remove their huts from the site and will be offered an alternative location elsewhere on the seafront.
The council is writing to all Alum Chine annual and private tenants with details of the planned works, which are part of the authority's long-term strategy for the seafront.
Tenants will be given at least 28 days' notice of the changes.