Gun street art graffiti in Dorchester criticised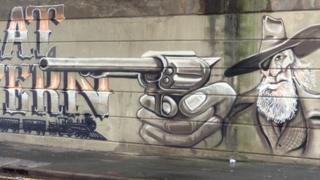 A youth street art project has been criticised for depicting a gun.
West Dorset District Council's Good Graffiti scheme aims to encourage young artists by providing a painting space under a Dorchester railway bridge.
Town council members said the western movie-themed image showing a cowboy's revolver had "divided opinions".
District councillor Gillian Summers, who instigated the scheme, said: "Bland and boring art wouldn't be worth bothering with."
Dorchester town councillor Tess James said residents had complained about the image painted underneath the railway bridge at Damers Road.
"They broadly feel it is a good project, excellently done - it's just the gun is not for us," she said.
The project was set up to reduce vandalism and "unsightly" graffiti around Dorchester.
Ms Summers dismissed the criticisms as a "great shame".
"Free walls happen all over the world - where anyone can paint on top of other people's work. In fact, the town council could go and paint over the gun."
Rob Rees, who set up a Facebook group in support of the image, which has attracted more than 2,500 'likes', said: "Dorchester is an up-and-coming town but there are some people who are set in their ways.
"It doesn't need to be changed - it's just a painting."