Bournemouth coastal activity park designs unveiled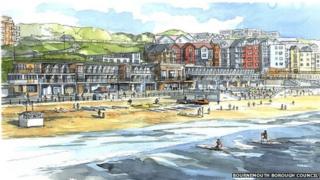 Designs for a dedicated activity park along the Dorset coast have been unveiled.
The 1 mile (1.5km) park between Alum Chine and Southbourne in Bournemouth is due to open on 13 April.
The £700,000 attraction will include a multi-sports arena, sporting events site and a dinghy park.
The work on the park will also see repairs made to a £3.2m artificial surf reef at Boscombe, which was closed in 2011 after a boat propeller damaged it.
Local traders, hoteliers and businesses attended a series of events in January to give their feedback on the park's designs and potential benefits.
Funding for the park has been assisted by a £254,000 grant from the government's Coastal Communities Fund.