Dorchester's Charles Street development to get extra £2m funds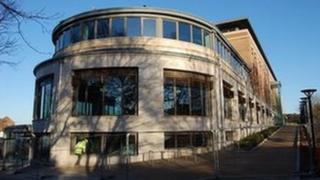 A Dorset council has agreed to fund a further £2m towards a town centre retail development.
New council buildings, a library and an adult learning centre have already been built in Charles Street, Dorchester, in the first phase of its regeneration.
In October 2012, West Dorset District Council agreed to fund up to £2m towards preparatory work for phase two.
Councillors have now voted in favour of the recommendation to underwrite 50% of the "financial gap to viability".
During a full council meeting earlier 31 councillors voted in favour of a series of recommendations, which also included amending the scheme, subject to developer Simons submitting a planning application by July 2014.
Three councillors voted against, with six abstentions.
In a statement, the developers said they were "pleased" that the district council "agreed to support" its proposals for Charles Street.
"We remain committed to seeing the project through," they added.
"[We] are in continued dialogue with the council officers to shape the scheme so we can deliver the high quality shopping facilities that the town of Dorchester requires."
'Sorry day'
This is the second time the £60m plans for phase two, which were originally approved in 2010 and had been due to include a hotel and an underground public car park, have needed council money.
Revised proposals for 24 flats in place of the hotel were approved by councillors in 2012.
Some councillors, including independent Alistair Chisholm, spoke out against the recommendations during the meeting.
He said he "strongly" objected to "yet more millions of precious tax payers' money being put into the hands of private developers".
"It's a sorry day," he added.
Leader of the Conservative-run council Robert Gould said the authority was "closer than ever in bringing this scheme to fruition".
When questioned whether future plans would include affordable housing as well as shops, he said the viability of this would be assessed during the planning application process.
In 2012, the council moved to new £9.7m premises on the development site, which the authority said would save £224,000 a year in running costs.
The move has long been criticised by opposition councillors, particularly when the authority's old offices at Stratton House sold for less than half the asking price in July last year.