Accused Weymouth councillor joins Lib Dem 'coalition'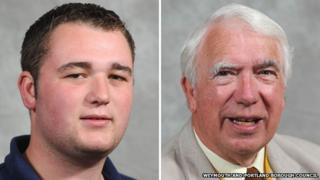 A new coalition has been formed by Liberal Democrat councillors to include a member suspended from the party while he faces child sex charges.
Weymouth and Portland councillor Ryan Hope was forced to stand down from the party last month after the intervention of its leader Nick Clegg.
The local party set up the Coalition of Liberal Democrats and Allies to protect Mr Hope's place on council committees.
Mr Hope, who is due to stand trial in April, denies all the charges.
Under council rules, seats on committees are allocated proportionally between political groups, based on the number of councillors in each group.
No party has overall control at the borough.
'Nothing short of a shambles'
Councillor Ian Roebuck, who leads the Lib Dem group, said: "Ryan cannot currently use the Liberal Democrat name and sits as an independent on the borough council.
"He retains the total support and confidence of his Liberal Democrat colleagues, and we have unanimously agreed to constitute ourselves into a Coalition of Liberal Democrats and Allies which we have all, collectively and individually, invited Ryan to join, and he has accepted."
Labour councillor Rachel Rogers said: "In setting up this new alliance, Councillor Roebuck and the other Liberal Democrat councillors appear to have circumnavigated the clearly expressed view of their party leader.
"Frankly, it's nothing short of a shambles."
The Liberal Democrat party said it was forced to suspend Mr Hope, given the seriousness of the allegations, although his suspension should not be interpreted as an indication of his guilt or innocence.
A spokesman said: "The party acted quickly to suspend Councillor Ryan Hope when we became aware of the extremely serious charges against him.
"The party has been made aware of the decision by the council group in Weymouth. The regional party is now establishing the facts and will consider appropriate action."
Mr Hope, 22, of Norfolk Road, Weymouth, denied seven charges, including rape of a child and sexual assault of a child, when he appeared in court in Dorchester in September.
The party said a communication failure meant Mr Hope remained a Liberal Democrat councillor until January when he was suspended by Mr Clegg, who said local party officials failed to follow rules in not referring the matter up.