Lyme Regis landslips expected to 'last for months'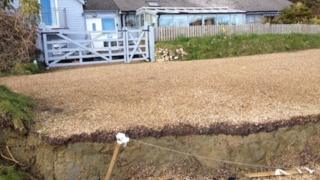 Landslips caused by heavy rain on the west Dorset coast may be felt for months to come, experts say.
Giant fissures, some 15m (50ft) long and 1.5m (5ft) deep, have developed in the ground a quarter of a mile (400m) inland from the Jurassic Coast.
Richard Edmonds, earth science manager of the Jurassic Coast Team, said: "The ground is moving like a giant waterfall; 8m has gone in 10 days."
He warned the full impact of the rain may not be clear until April or May.
Three large landslides have occurred in the area since Christmas.
Mr Edmonds said: "You can even hear it coming down, but rather than water it's mud and rock, trees and bushes."
West of Lyme Regis at Ware a holiday home is under threat after land movements opened up the ground.
Boulders falling
The drive to the Crow's Nest property which sits about a quarter of a mile (400m) from the cliffs has dropped by 4ft (1.2m).
Dorset Fire and Rescue has reported "boulders the size of cars" falling from the cliff to the beach.
The active landslip has also shut five miles (7.6km) of The South West Coast Path between Lyme Regis and Axmouth near to the Devon border.
The South West Coast Path team said it would be "summer at the earliest" before the path re-opened.