Dorset Police front desk closures put on hold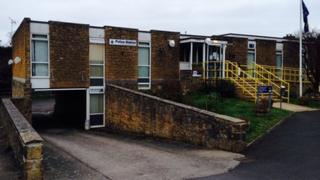 Dorset Police's proposals to reduce station opening hours and close front desks have been put on hold until 2015.
The decision is in response to the "strength of feeling" against the plans, including a petition to save Sherborne's station desk.
The force said a survey showed most people preferred to call rather than visit, but "more time" was needed before "final decisions can be made".
Dorset Police said the plans would save the force about £500,000.
'Basic service'
Following consultations with Dorset communities, police have decided to "delay implementation of the proposals" until at least September 2015.
Police and Crime Commissioner Martyn Underhill said: "From the wide range of alternative suggestions and the strength of feeling that we have encountered, it is clear that the force and I need more time to take on board the information we have received."
In response to public feedback last year, Dorset Police is looking to retain a front counter provision in Bournemouth, Weymouth and North Dorset.
The main stations affected are in the county's rural areas.
West Dorset councillor and campaigner Chris Loder previously said rural areas expected the "basic service" of a front desk.
The force is trying to achieve budget savings of £10m by March 2015.